To get view your inventory overview and rules monitoring overview, see the Hyperglance Main Dashboard.
To view your inventory diagram map, see the Hyperglance Diagram View page for more info.
To search across resources using attributes and metric values, see the Hyperglance Advanced Search page.
Use the Dashboard, Diagram, Advanced Search, Cost, Security & Compliance and Automations tabs to access them:

Navigation Bar Menu: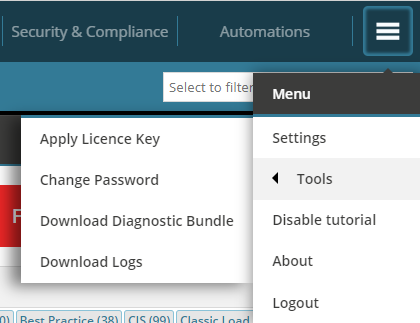 Hyperglance Settings page to manage integration platforms, API, tag views, Alert Notifications, and Automations configuration.
Other administrative tools for account maintenance & downloadable logs
Enable/disable site tutorial, product license & other details
Dashboard Monitoring Rules:
Continually monitor your cloud data for any problems.
Set up Email notifications right away to get notified of any issues: See Hyperglance Main Dashboard
Navigating the Diagram:
Single click to select - Everything is clickable (Groups, Labels, Resources, Links, Interfaces)
Click on the label of a group to expand or contract that group
Left click and drag to move the diagram around
Diagram Controls (top right):
Search:
Search at the top left
Searches across all resources including links, interfaces and alert data
Search uses an inherently logical 'and' and therefore only match if all terms are on the entity.
Everything:
Everything 'can' have attributes, alarms, metrics or interfaces depending on the underlying data