A rule is a 'smart' search query that can continually monitor your cloud data looking for problems.
Hyperglance comes pre-bundled with a load of useful rules that check your cloud environment is meeting best-practices, but you can also create your own!
When an issue is detected you can be notified by Email and/or by sending automated notifications to AWS SNS or Azure EventGrid.
How to Create a Custom Rule
1) On the 'Advanced Search' tab, enter your filter criteria for the types of conditions you want to monitor and click on the 'Search' button: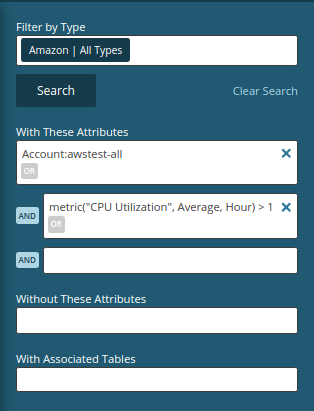 2) This will return matches in a table. Once you are happy with the search criteria, save it as a rule by clicking 'Save As Rule':

3) Setup the rule. Give your rule a name, description and select which Pack it should belong to (or type in a brand new pack name to create a new pack).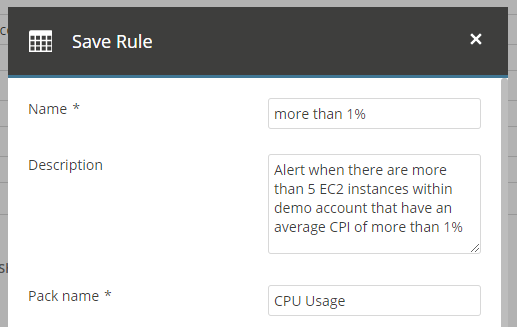 Decide how often the rule should notify you:

Never - Will never notify and will never run automatically.
Always - Will notify on each and every run.

This is useful for creating regular reports.

Status Changes - Will notify only if the status has changed (for better or worse) since the last run.

This is useful for being alerting when things go wrong and notified again when they get fixed.

Status Changes To Failure - Similar to 'Status Changes' except it will not notify you when things get fixed.
Next decide on the periodicity (i.e. how often your rule should run) and on the threshold alert criteria.
Rules only alert when the number of results found by the search are outside of the thresholds set here.
You can set a either a minimum number of results, a maximum number of results, or set both at once.
For example here we are alerting when there are more than 5 results found that match our search criteria: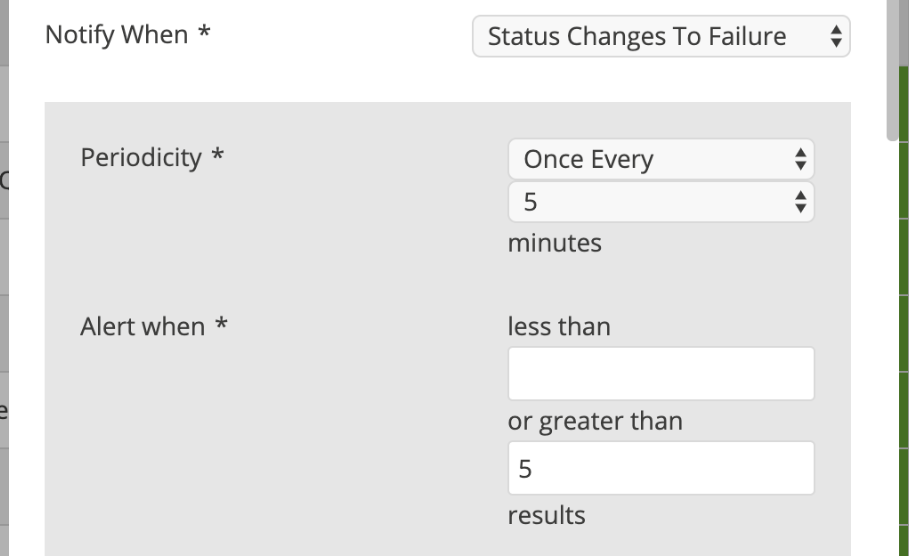 Finally decide how the rule should notify you.
Note: You can leave these blank and the rule will simply alert within the Hyperglance UI only
Hyperglance currently supports the following notification systems:
Email notifications

For emails to work SMTP must be setup. See: How to add SMTP settings
Enter one or more email address separated by semicolons.

AWS Simple Messaging Service (SNS)

Topic ARN - This is the ARN of the SNS topic that Hyperglance will alert to. (required)
Role ARN - Can be left blank but if provided Hyperglance will perform an STS AssumeRole operation before attempting to publish to the SNS topic.
Access Key & Private Key - Can be left blank (and are not available in AWS Marketplace builds) but if provided Hyperglance will authenticate using these keys before attempting to AssumeRole and/or before attempting to publish to the SNS topic.

Azure Event Grid

Topic Endpoint - The URL for the topic. (required)
Auth Key - An authentication secret key to allow publishing to the topic. (required)

Slack



Click 'Submit' to save your rule.
That's it! you've created your first rule.
Navigate back to the Main Dashboard by going to the 'Dashboard' tab and you should see all currently available rules on the right part of the screen: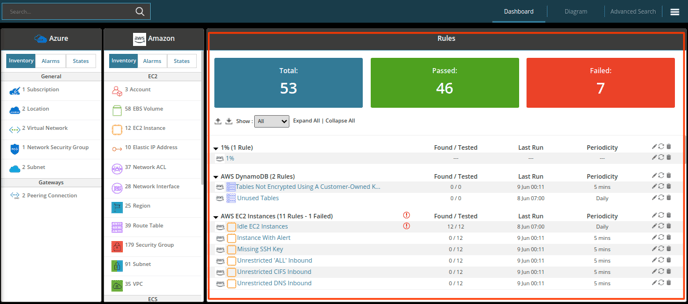 Use the buttons on the right-hand-side to manage your rules:

Edit rule or bulk-edit all the rules in a pack.
(For an example of bulk-editing see the section titled "How to get Notified when rules detect issues")

Manually trigger the rule (or pack) to run now.

Delete rule or entire pack